About School Viewers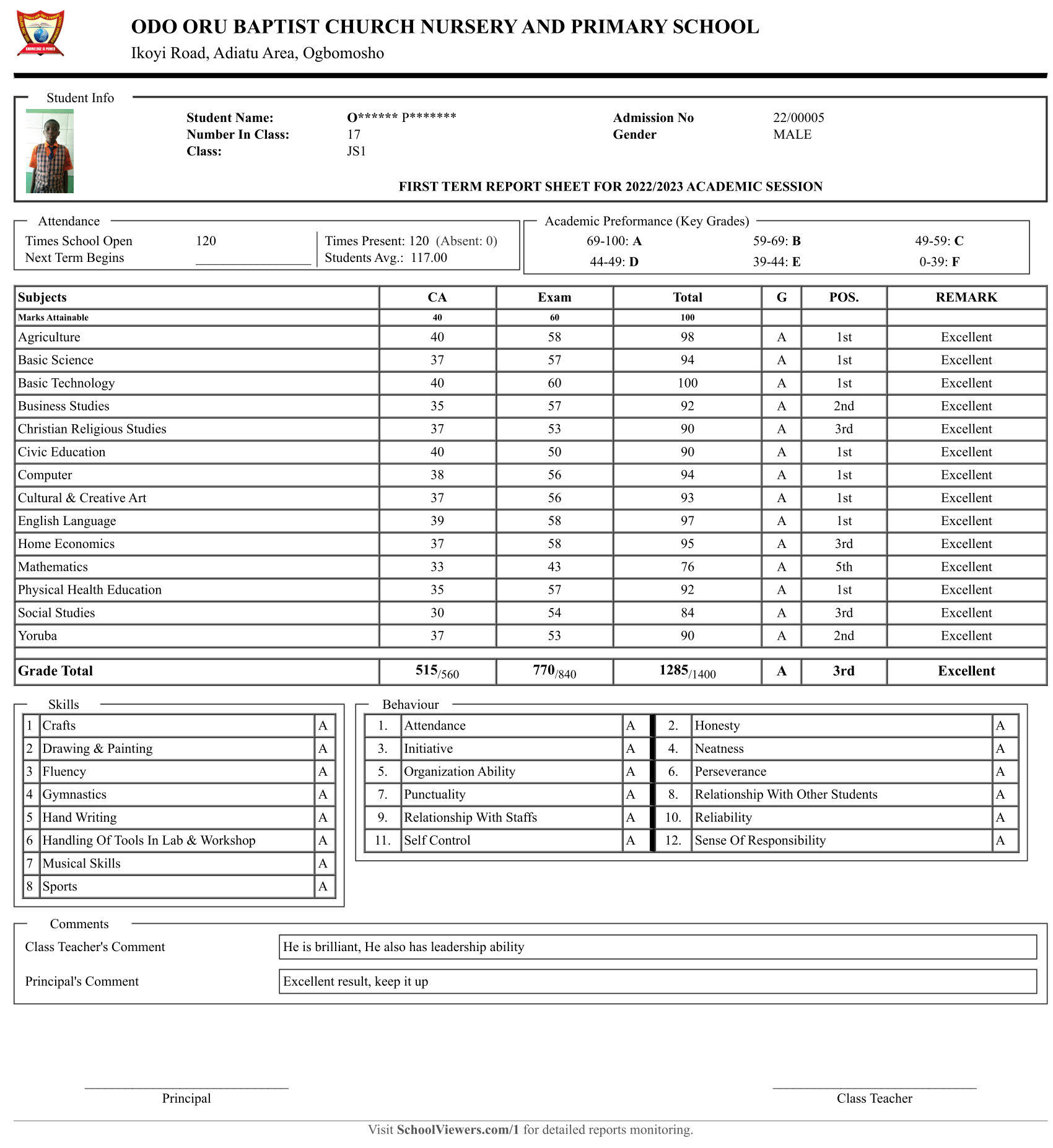 Sample Generated Report Sheet
Background Story
On the 3rd of November, 2022; my sister
(who had recently been tasked with running the school that belongs to her church)
contacted me for help in generating report cards for printing.
Naturally, I searched online for a school management software that could easily get this done, but instead, I noticed something:
Most 'free' school management systems out there aren't actually free after-all, or they are simply sub-par/deficient in either accessibility, presentation, flexibility of features, or basic functionalities
Some of the paid ones are stuffed with distracting features (such as E-Libraries and Video Conferencing).
(We don't need all those; plus she wasn't really looking for paid ones 😉)
In summary, the available school management system either doesn't deliver what you need exactly; or does a little too much, and in-turn charges heavily for it.
So, i resolved to develop School Viewers; and it has been delivering exactly all that is needed.
SchoolViewers
doesn't replace nor intrude on normal classroom activities
in any way.
So, the teachers and students can still focus on the actual teaching/learning in their classrooms, and not spend too much time on the portal.
This solution entails:
E Portals For Teachers, Parents & Students
School fees / Payments Management
Scores & Report Cards
Online Tests (CBT)
Homeworks
Daily Reports & Attendance
Targeted Public Notice
School's landing page and blog
This is a totally free, web-based school management system that helps teachers, administrators, and other school staff streamline their daily tasks and communicate with students and parents. The platform is designed to be user-friendly and accessible from any device, so you can stay organized and connected from anywhere.
Some of the key features of School Viewers:
Student Information Management: the system allows you to easily store and access student information, including contact details, schedules, grades, and more. You can also track student attendance and behavior, and generate reports to help you identify areas of improvement.
Communication Tools: With SchoolViewers, you can send messages and updates to students, parents, and other staff members directly through the platform. You can also create and share announcements, daily-reports, and other important informations.
Classroom Management: The system includes tools for creating and managing assignments, and other course materials. You can also schoolviewers to grade and provide feedback on student work, and track progress over time.
Parent Portal: SchoolViewers offers a secure portal where parents can view their child's grades, assignments, and other important information. They can also use the portal to communicate with teachers and other staff members.
How is SchoolViewers so robust, and yet Free?
Good Question! There will never by any charges whatsoever, no hidden fee.
We plan to keep the platform running forever free of charge, through very subtle (non-intrusive) targeted ads.
At SchoolViewers, we are committed to providing schools with the tools they need to succeed. The platform is constantly evolving, with new features and updates being added regularly.
Thank you for choosing SchoolViewers as your school management system. We hope you find it helpful and easy to use!